Buy PCS-Dimer Direct
Purity isn't everything - it's the ONLY thing™.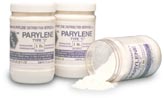 Parylene Coating Services of Katy, TX sells the same high quality Dimer that it uses in its own facilities. "The purest name in DimerTM" provides faster, more efficient run times. Coating thickness and uniformity are both controlled by the amount and purity of the Dimer used. When there is less contaminates in the Dimer, a more consistent overall deposition thickness is achieved. Two PCS Dimer variations are offered: Type "C" and Type "N".

CONTACT US FOR MORE INFORMATION.
PROPERTIES OF PCS DIMER




| | |
| --- | --- |
| | PCS DIMER Specification Sheet — Click on the Adobe Acrobat PDF icon to download a complete Parylene Coating Services data sheet. |

GET ADOBE ACROBAT





Download a free copy of Adobe Acrobat Reader including a browser-compatible plug-in for .PDF file viewing and/or printing.